Welcome to our Online Trauma-Conscious Yoga Method℠ Teacher Training and Certification Program!
The Trauma-Conscious Yoga Method℠ integrates trauma-informed yoga therapy and somatic psychotherapy practices. This course offers all the benefits of online education:
Learn at your own pace
Gain lifetime access to all course content
Replay and review all video lectures as you wish


You will gain a comprehensive education in Trauma/PTSD including neuroscience and Polyvagal Theory, the relationship between social justice and collective trauma healing, Trauma-Conscious Yoga, and Somatic Psychotherapy Practices. I will give you a formalized roadmap around how to integrate these practices into your current work, while remaining intuitive and connected to your authentic voice.

This course is includes both experiential and lecture components and is approximately 25 hours but may take more time to complete based on personal learning style.
Certification:
Upon completion of this course you will receive certification in The Trauma-Conscious Yoga Method, recognized and approved by Yoga Alliance and the majority of mental health licensing boards. Yoga Teachers will receive 20 CE's via Yoga Alliance (this is the max that Yoga Alliance allows for non-contact hours per year). Most mental health professionals will receive 25 CE's (see FAQ section for more info).
What Sets This Training Apart?
This training goes beyond trauma-informed yoga. The Trauma-Conscious Yoga Method℠ is a marrying of Trauma-Informed Yoga with Somatic Psychotherapy and Indigenous Healing Practices.

This training has social justice and healing justice work at its roots.
We explore how to decolonize yoga and move beyond the suffocating grip of White Supremacy that has made this practice inaccessible to the very people from whose culture it comes and other groups who experience unparalleled levels of trauma in the presence of racial and relational violence.


Through a parallel process, you will gain a deeper connection to your own body and explore body-centered healing work to support both your personal and professional growth.
Who is Benefits From This Training?
Mental Health Professionals
Yoga Teachers
Medical and other Healthcare Professionals
Coaches
Body Workers
Humans wanting to learn techniques to support their own trauma healing and wellness
Mental Health Professionals will:
Receive sound knowledge in The Trauma-Conscious Yoga Method℠
Grow their clinical skills and learn how to bring a somatic focus to their work
Learn how to integrate this method into their current talk therapy practice(s)
Yoga Teachers will:
Gain a thorough understanding of The Trauma-Conscious Yoga Method℠
Learn clinical skills that have evolved from several different trauma-focused, evidence-based, psychotherapeutic modalities, and how to use these skills while staying within their scope of practice
Receive the knowledge necessary to work with trauma survivors in diverse settings in a way that is empowering, healing and resists re-traumatization


Course Curriculum
The Trauma-Conscious Yoga Method Online Teacher Training: Module II
Available in days
days after you enroll
The Trauma-Conscious Yoga Method℠ Online Teacher Training: Module III
Available in days
days after you enroll
Check out a more detailed breakdown of your curriculum below:

MODULE ONE:
Lecture I: Ancient to Modern Yoga and How Trauma-Informed Care Fits In
Yoga's Philosophy and Social Justice
Yoga in the East (classical to modern)
Yoga in the West
The History of Trauma-Conscious Yoga
Living Yoga off the Mat: Decolonizing Yoga and Dismantling Oppressive Systems
Lecture II: Trauma and the Brain, Body Spirit
Part One:

What is trauma? What makes an experience traumatic for one person and not another? How perception plays a key role.
Prevalence of trauma
What is considered trauma?
Attachment-based wounding and it's impact: the residual effects of neglect and shame
The Trauma Reactions (categories and presentations)
The diagnostic criteria for PTSD

Part Two:

The Triune Brain: What happens to the brainstem, limbic brain, and cortex during traumatic experiences and in the aftermath
How Trauma is Stored in the Brain
Implicit Vs Explicit Memory
The Goal of Trauma Therapy
Learned experiences and our neural pathways
The Overall Impression of Trauma: the brain of the trauma survivor, the psyche of the trauma survivor, the body of the trauma survivor, the spirit of the trauma survivor
The healing role of yoga and mindfulness practices and their impression on the psyche, brain, body and spirit
Lecture III: Yoga and the Brain
The Vagus Nerve and Polyvagal Theory
Yoga's role in Presence, Attunement and Attachment Repair
Lecture IV: The Trauma-Conscious Yoga Method: How to Embody a Trauma-Informed Guide
Principles and Practices
Somatic Psychotherapy Tools for Integration
MODULE TWO:
Lectures I: Clinical and Somatic Psychotherapy Tools
Session Structure
Engagement in Asana
Assessment and Treatment Planning
Lecture II: Case Demo and Q&A (this is a video recording of Nityda in session with a client)
Lecture III: Assessment and Chakra Psychology
Trauma's impact on the chakras
How to support balance and integration
Lecture IV: Asanas Part I
Seated Yoga Poses
Grounded/Lying Yoga Poses
Lectures V: Pranayamas
Lecture VI: Meditations
MODULE THREE:
Lecture I: Case Studies
Lecture II: Mudras
Lecture III: Group Adaptations
Lecture IV: Asanas Part II
Standing Poses
Restorative Yoga Poses
Lecture V: Discussion of Final Project
Lectures VI: Business of Yoga
Certification Standards
CEU's
Ethics
Liability
Moving Forward along the Path of Yoga
Please note the following requirements for certification in The Trauma-Conscious Yoga Method℠
Complete all quizzes
Case Studies Homework: Complete two case study examples and submit
Final Project:

Photos/Video of Self in Asana: 8 total- submit a journal entry about your experience integrating these asanas into your regular spiritual/self-care practice

2 seated poses
2 grounded/lying poses
2 restorative poses
2 standing/balancing poses

Choose 2 pranayamas and write a short summary about your experience: minimum 1 paragraph
Choose 2 mudras to practice daily for one week and submit a journal entry about your experience with each
Choose 1 meditation to practice at least three times and submit a journal entry about your experience
Case presentation:

Option 1: Create a plan/sequence for an individual client or group/class.

Submit worksheet with your rationale for choosing the practices that you did
Practice leading this plan/sequence off-camera with a client
Write a summary of your experience: how it went overall, what you learned, what went well, what you would do differently next time, etc. or Create a video or audio recording of yourself explaining this information as opposed to writing it

Option 2: Create a plan/sequence for an individual client or group/class.

Submit worksheet with your rationale for choosing the practices that you did
Practice leading this plan/sequence on-camera
Your Instructor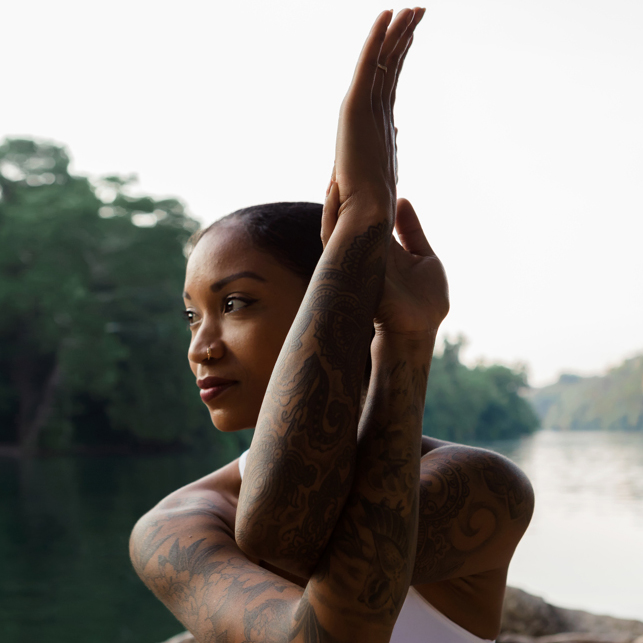 What sets Nityda apart?
*As a yoga teacher for the past 13 years, Nityda has worked with diverse populations, teaching and training others to teach in public yoga studios, substance abuse rehabilitation centers, adult and adolescent units within psychiatric hospitals, drop in centers for youth, public and private school systems, and clinically within the psychotherapy setting.
*Nityda is a licensed, practicing psychotherapist and trauma specialist. Nityda has devoted herself to trauma training and research and is keen to the intricacies that present within clinical settings. Nityda is trained in a variety of somatic-based and trauma-focused psychotherapies including Eye-Movement Desensitization and Reprocessing Therapy (EMDR), Somatic Experiencing, Internal Family Systems (IFS), and mindfulness-based modalities. Nityda's dual licensure as both yoga professional and mental health professional inform her wider scope of practice and experience in supporting trauma survivors, that is rare to find in a trauma-informed yoga teacher trainer.
*Nityda's energy has been described as "grounding, calm and compassionate," while also "playful and light-hearted." Some have said Nityda brings an "intriguing edge" (maybe it's the tattoos!). Please visit www.traumaconsciousyoga.com to read testimonials.

Testimonials:
Sonia Ross, LCSW, TCYM
This training was very impactful for me on a personal and professional level. I believe truly that it changed my heart. It helped me to see myself and the traumas I have experienced in a new light and access parts of myself that I was not able to access before. Because of the knowledge and insight gained from this training and Nityda's expertise, I can now approach my clients in new ways and with deeper insights into their recovery process and even my own. I would happily take this exact same training again because it did so much for my head and my heart which all serves to make me a better clinician.

Tyisha Brown, RYT, TCYM
This training was life-changing. It enlightened us on how practitioners can integrate somatic practices and indigenous modalities to assist communities, especially those dealing with trauma. It is amazing what our body can tell us. Nityda provided greater insight on how sensations in our bodies are signals and showed ways to bring comfort to the parts we have come to resist because of trauma. This training was truly a social justice forum, spreading concepts dealing with the disembodiment of marginalized and colonized individuals/communities, and ways of challenging oppressive systems through healing modalities such as yoga.

Deborah Sharp, LCSW, CGP, TCYM
This training has really increased my awareness of the way that I can use the things that are valuable to me personally in my yoga practice, in my work with clients in a more traditional therapy setting. It's possible for me to incorporate those elements in my office! I would absolutely recommend this training to a colleague, especially if they're working with people who have experienced trauma, and I think we're all working with people who have experienced trauma.
Christina Dixon, LCSW, TCYM
As for what has changed for me, I think the biggest thing is my relationship with my body. I've had chronic autoimmune conditions for as long as I can remember but didn't notice how that created an adversarial relationship with my body. (For instance, when people asked me what autoimmune diseases are I would tell them "It means my body hates me and attacks me." Wow!) The meditations we did in our training helped me relate to my body in a way I never have before. It's still a work in progress but I am better able to recognize when I feel separate from my body or angry at my body. I am slowly learning to treat my body with kindness and compassion.
Because I didn't often feel positively connected with my body I would not talk with my clients much about it and if I did it was superficial and cautious. I now consider mind-body connections with every client,
whether they mention it or not. Now that I've learned it I can't "unsee" it. It filters every assessment and plan I have with clients. I suggest and model breathing and movement in session in ways I was not comfortable doing before.
Tabitha Peterson, LPC, TCYM
This training reinvigorated my personal yoga practice and allowed me the ability to bring clients to a space of connection to their body and having some tools for how to do that in a safe way. In this training I learned how to move clients from the couch to the floor and practical ways to bring curiosity and receptivity to the experience while allowing clients to go where they need to go. This was a wonderful experience. It really allowed me to look at things in a new way.
N.Labastida, RYT, TCYM
The skills I learned in this training really helped me connect with my students more deeply than I had before. I was more tapped into my own intuition and what my client needed from me. I could literally do this training again and be happy and educated the entire time, it's so good!
Alexis Edwards, LCSW, TCYM
Nityda, I'm still soaking in all the goodness you have taught me. I'm so beyond grateful for your wisdom and willingness to share it with this world. We are lucky to have you in it. Thank you for your wisdom and guidance. I am grateful to know you and look forward to continuing to share your teachings.
Ryan Andrews, LCSW, RYT, TCYM
I just completed the Trauma Conscious Yoga Method training with Nityda and it was everything I hoped for, and more. I have been practicing yoga, yoga therapy, and psychotherapy for years now, but have yet to find teachings/trainings that so thoroughly incorporate a trauma-focus. Nityda has taken her years of experience, various trainings and education, and current research, and combined it all to make a comprehensive training that would benefit (and dare I say, should be required for) all yoga teachers, psychotherapists, yoga therapists, and really all helping professionals. I found the structure of the training to have the perfect blend of experiential practice (we actually learned and practiced the tools we were learning to share with others), lecture, thoughtful discussion, and healing ritual. Nityda has dedicated her life to educating helping professionals on the impact of trauma on the mind and body, and empowering them to find ways to tailor their work to remain sensitive to this. I highly recommend you take a future training with her, should your interest be even slightly sparked. Trust your instinct, and go for it. You will be a better clinician, teacher, and all around human for it!
Frequently Asked Questions:
Q: I am not a registered/certified yoga teacher or yoga therapist. Can I take this training?
A: Yes! You do not need to be a yoga teacher or yoga therapist to attend.
Q: I am new to yoga. Can I still take this training?
A: Yes! We typically will have people with a diversity of experience levels in the training. While we have had registered yoga teachers and even those who have taken other trauma-informed yoga certification trainings attend and say they learned new information and grew their knowledge base, this training is also a deep-dive and comprehensive starter-course for those new to yoga.
Q: Will I get CE's for completing this training?
A: Currently TCYI can provide CE's for Yoga Teachers across states, via Yoga Alliance, and Mental Health Professionals licensed in Texas State as social workers, professional counselors, marriage and family therapists, and psychologists. All other licenses and states must check with their state licensing board to ascertain whether or not this course meets the license standards for CE approval.
Q: Are you accredited with Yoga Alliance?
A: Yes, you can upload your certificate of completion to the YA website.
Q: How long will I have access to the online course?
A: Forever! You will have lifetime access to the training!
Q: What is the final project?
A: Please view the last section of the course curriculum (above) to see information related to the final project.
Q: How much does the course cost?
A: Please see the pricing section above.
Q: Are refunds available?
A: No. Nityda has poured her heart and soul into this training and included an abundance of high-value content - in comparison to other online yoga teacher trainings this training is incredibly thorough and comprehensive. You will gain lifetime access to the materials within the course and receive new bonus content when it is added to the course from time to time. That being said, we ask that you commit to your purchase- no refunds will be granted.
Q: I can't afford the training. Do you offer scholarships and/or work-study opportunities?
A: We typically do not offer scholarships but our training does go on sale several times a year. Please sign up for our newsletter to stay informed. We also offer work-study opportunities on occasion. The best option for those who want to attend but are concerned about the finances is to register using the payment plan option. If our standard payment plan options don't work for you, please reach out to our Executive Assistant, Tosha Wilson, at [email protected], to discuss a customized payment plan.
Q: Do you offer payment plans?

A: Yes. You will see that this is the second payment option listed on this page. To attend the full training and certification using a payment plan, you agree to make four payments of $200.
Q: How will I receive my certificate?
A: We will send you an electronic Certificate of Completion after you complete the course and submit your evaluation form.
Q: Will this training lead toward my 200-hour yoga certification?
A: It's possible, but you need to check with the specific 200-hour program you intend on participating in to confirm (it is up to them). This training and all trauma-conscious yoga trainings are considered electives or specializations by Yoga Alliance. Most 200-hour yoga teacher trainings have a set curriculum that they abide by to meet Yoga Alliance's standards for 200-hour certification. Trauma-informed yoga is not a part of Yoga Alliance's 200-hour standard, however some 200-hour YTT's will allow this training to count toward their completion.
Q: Will I receive any course materials?
A: Yes, you will receive the full training manual, available for download!
Q: Is the course content available or download?
A: The manual and pdf documents, audios of meditation and contemplative practices for you and your clients, and meditation scripts are available for download. The only content that is not available for download are the video lectures. This is to protect from copyright infringement or illegal distribution of the course content. Don't worry- you will have lifetime access to the videos and all course content.
Q: Can I share this training and complete with a colleague(s)/friend(s)?
A: No, it is expected that each individual participating in the training will purchase the content for themselves. This course would not be possible if everyone shared the material instead of purchasing it for themselves. Please uphold the ethical principle of satya (truthfulness) on this. Thank you in advance.
Q: What about after the training?
A: Nityda is pleased to offer you access to The TCYM TT Alumni FB group after the course. Nityda also offers online consultation groups once a month to support your continued study and growth. To see the schedule and rates consultation group please visit www.traumaconsciousyoga.com/upcomingtrainings.We are in the process of offering advanced study tracks to TCYM Alumni so please stay tuned as our first is expected to launch in Spring 2020. We've got community and the learning is ongoing!

We didn't answer your question?
This video answers more FAQ's about The Trauma-Conscious Yoga Method℠ Online Certification Program!
Please email Nityda at [email protected] to inquire further. Peace, love, and namaste!